The following letters contain customer feedback from people who have been on my tours.
---
Hi Don,

Thank you once again for taking us on tour. Daniel did a school project on the tour. His teacher was absolutely amazed at what he had learnt and remembered. It was such a highlight for him.

Kind regards,
Siggie and Barbara (05.10.2014)
---
Dear Don,

Janet and I wish to thank you most warmly for the role you played in ensuing the success of our exploration of some of the Pfanner Missions. It turned out to be a never to be forgotten experience and you made our visit thoroughly enjoyable with many thoughtful touches.We consider ourselves very lucky to have had you as a driver/guide and doing all you could do to ensure we had a worthwhile and interesting tour.

Kindest regards from us both,
John and Janet (25.05.2014)
---
Don,

Just a short note to thank-you again for the wonderful day we had on Sunday, so glad we had a guide and it was you. Hope you made it home given all the rain.

We left Dundee at 0700 hrs and got to Qunu by 1800 hrs. a long drive but managed to wangle a bed at the Mandela Museum. Very interesting stop-over!

All the best, Elizabeth is now scheming for the Lesotho trip!

Kind regards,
Bill and Elizabeth Laver (28.02.2014)
---
Hello Don,

Hope your game park tour went well. We had a very nice time at Clarens and were even able to get a hike in before a huge thunderstorm blew in.

John and Angela have written some comments for your web site and also for Ilse at Gecko's View. Their comments echo our thoughts so here they are: Battlefields

History brought to life by the depth of knowledge and eloquence of oratory that Don Botterill displayed during our two day tour. His planning and attention to details made this a suberb and memorable experience. Appropriate music to set the atmosphere provided a creative touch which added to the experience.Gecko's View

We received a lovely warm welcome and sincere helpfulness from Ilse and her staff. Nothing was too much trouble and with good food, excellent accommodation and stunning views this is a venue which should not be missed.

Hope this above conveys our appreciation, Don, please pass on to Ilse.

Regards,
Jill

Brian and Jill Strappini Liongate B&B (24 January 2014)
---
Hello Don

Baie dankie vir 'n baie interessante toer na die Sani Pass. Jy het ons toer na Durban gemaak, jou bedagsaamheid , vriendelikheid en kennis van die Sani Pass en omgewing het dit so spesiaal gemaak.

Dankie vir  jou geduld met al die foto's wat Judy geneem het en jou kommer met Marie se olikheid.

Ek sal jou aanbeveel  aan enige iemand wat die Sani Pass oorweeg en wat 'n ongelooflike "moet sien" toer. Die Sani Pass is onbeskryflik mooi!!!

Kind regards,
Surietha Koster (November 2013)
---
Dear Don

Just a few lines to say how much we enjoyed our recent Battlefields Tour with you. You brought the history to life for us and the whole day was deeply memorable and emotive. Thanks for an excellent experience.

Best regards,
Angela and Richard, Isle of Man (September 2013)
---
Hi Don,

Best Holiday and best day

We are home again safe and sound and with plenty of work to catch up on. But we just needed to let you know how great you helped to make our holiday. My favourite day (apart from the animals of course) was the day we went to Isandlwana and Rorke's Drift. I have been listening to the CDs we got from Isandlwana and can see it all happening in my mind. So I listen to the CDs to and from work in the car. Any wonder as I go to sleep at night my head is still in SA. I have been telling any one who will listen about how great it all was and how good you and Allan both were.

A very big THANK YOU

Cliff and Annett Hallam (15 Sept. 2013)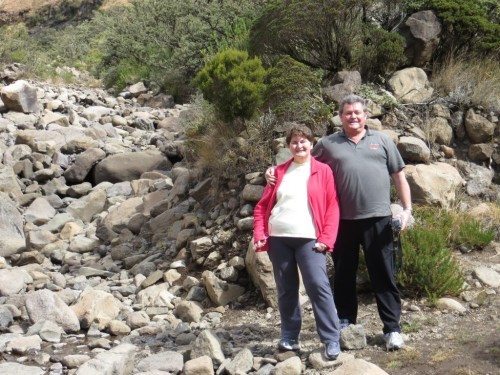 ---
Don,

Just wanted to say many thanks for showing us round Drakensberg and Durban.

It is no exaggeration to say that our time in South Africa was the best holiday we have had in absolutely ages and that the couple of days in Drakensberg were definitely one of the highlights.

Hope all is well with you and that you are looking forward to cruising the waterways of England next month. If you can let me know where you are going exactly I'll see if I can dig out some useful info' for you.

I have been asked by a few people if I could give your details to them as they may be interested in doing a tour. Are you O.K. with this?

Very best wishes,
Richard & Val
---
Don, here is report from Martin. Well Done!!!
We are pleased to report, that we had a very good time with Don. Everything was well organised, worked well – no complaints, no real recommendations for improvements. We were also very happy with the Bonamanzi Lodge – an outstanding experience in an unique surrounding. And Don, a very knowledgeable, pleasant personality, probably the best guide in all of South Africa!! We really liked him.

Thanks again for everything. We would immediately book again for tomorrow, if Zululand wouldn't be 10'000 km away from Switzerland!

Cheers,
Martin
---
Dear Don,

I want to thank you so much for such a great tour of the battlefields, we were all captivated by the story/ies you told, and you really brought everything alive with your depth of knowledge and the music etc! We will recommend you highly to other friends who will be heading to Kwa-Zulu Natal.

Thank you so much again,
Pollyanna
---
Hi Don,

Thank you for the wonderful experience. You made the tour come alive and we may see you next year again. Africa has become an irresistible magnet for us with this trip being our 9th. We are looking forward to being on top of Sonya's Rock again, for the priceless moments.

Thank you again and we hope to see you on another journey.

All the best,
Sonya and Fred
---
Don, we all really enjoyed the battlefields, the tour far exceeded our expectations. You made the history come alive for us.

Cheers,
Jane
---
Dear Don

Thought you would like this photo as a souvenir of our day together. You gave us a wonderful tour and we were thrilled with all the information and the sight of so many historical and tragic places. You are a wonderful guide and historian. One day I hope we can do the Boer War sites together.

With very best wishes from Ruth, Joan and Jill and myself.

Peter Raeburn-Ward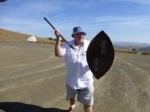 ---
Dear Don,

A very big thank you for taking such good care of the Coolbear Party. They are praising your well put together tour, extreme good knowledge … and they were very happy on their return.

I will keep your contact on hand and hopefully I can refer more clients to you in the near future.

Warm regards,
Amanda  www.travelcounsellors.co.za/amandavanderspuy
---
Don,

I hope you are doing great. I made it safe home after being flying for 24 hours.

I want to thank you in a very special way for being so kind and to show  me all the marvels I could see that day. This is, no doubt, one of those trips that I will remember all my life. My family really enjoyed the pictures and videos. Thanks again for your professionalism and the special treatment,

If by any chance you come to Latinamerica, please let me know. Maybe I can provide some information and have the chance to give back your hospitality and kindness.

Best Regards
Manuel
---
Hi Don

On behalf of my Dad Reg and son Joseph I would like to thank you for an exceptionally memorable, interesting and well organized outing to the Battle Fields last Saturday. Your commentary and explanations really put the whole military and political situation at the time into perspective, and the historical events came to life in an amazing way.

After we got back home Joseph couldn't stop telling my wife Wendy about what he had seen and learnt during the outing – although he still struggles with the iKlwa (maybe he needs some Zulu lessons!). It was also a very special outing for my Dad – he told me afterwards that he had a great day. It was good for him to revisit the areas that he had worked in while at Museum services. Personally, our "11 Dec Ultimatum Day" outing was a day I shall never forget – not only because of the very powerful atmosphere of the battle sites, and not just because of the phenomenal storm that broke as we were returning (and turned the sky black, like the "Day of the dead moon!"), but also as a three-generation family outing it was a very special day for us (some photo's attached). So thanks again for your time and effort, and all the best with your future tours.

Kind regards,
Mark
---
Don,

Back in New Zealand. Just wanted to say how much I enjoyed the tour. I was surprised last night when talking to the family about the tour how much I had taken in.

Once again thanks for a very enjoyable and informative day.

Regards,
Kevin
---
Hi Don

I just wanted to thank you for such an awesome experience yesterday, really feel on such a high today from it. The people of Lesotho are amazing and mountains just beautiful. You were really great, so accommodating and we are all so glad that we shared this experience with you.

Have a good day
Nikki
---
Hi Don,

Many thanks for contributing to the success of our Battlefields tour. Your "potted" summary was an excellent introduction to SA history. Our Australian sister-in-law was lost in the detail the previous day.

Your kindness was much appreciated. We shall certainly recommend you to anyone wishing to do day trips.

Kind regards,
Jill
---
Dear Don,

On behalf of my father, son and cousin, Matthew, I am writing to thank you for giving us such a wonderful day on our Safari. I learnt a lot that day and on my return, I will be in touch as I would certainly like to go on the Zulu Battlefields Tour. It sounds fascinating.

I do trust life is treating you well and send you my best regards.

Christopher.
---
[contact-form to='daytourskzn@gmail.com' subject='Inquiry – Customer Feedback'][contact-field label='Name' type='name' required='1'/][contact-field label='Email' type='email' required='1'/][contact-field label='Comment' type='textarea'/][/contact-form]