The Drakensberg Bushman Paintings Tour is a full-day tour, leaving Durban at 8.30 am and returning at approximately 5 pm.
An average level of fitness is required as the tour involves a leisurely walk in the mountains to reach the Caves.
The undulating Drakensberg Mountain range is beautiful; a favorite holiday destination for tourists and locals. The Drakensberg Bushman Paintings Tour will take you to the heart of the Drakensberg, to the World Heritage Site of Giant's Castle. Giant's Castle gets its name from the outline of the peaks and escarpment that combine to resemble the profile of a sleeping giant. It is essentially a grassy plateau that nestles among the deep valleys of this part of the Drakensberg.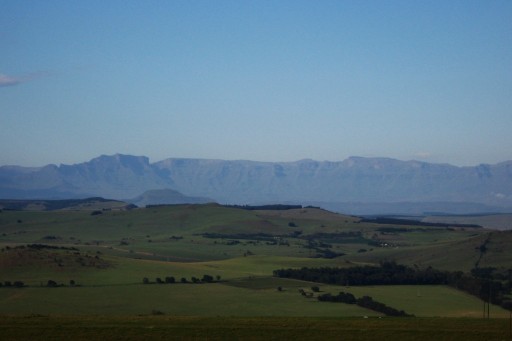 The Walk to the Drakensberg Bushman Paintings Caves
The Caves are situated about 2.5 km from the main Giant's Castle Camp and a leisurely stroll gets us there in about 45 minutes. We follow the well-marked Bushman's River Trail through grasslands and over a mountain stream or two until we arrive at the Main Caves. On the way, you might see an Eland buck or two, or even a bearded vulture flying overhead.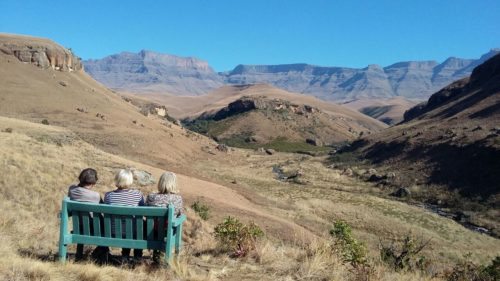 The Caves feature about 500 bushman rock paintings, some of the most well-preserved bushman paintings in South Africa. It is believed that the paintings date back some 2000 years. An experienced and knowledgeable guide awaits your arrival at the caves to share some captivating insights into the paintings and the life of the Bushmen (San people) in these mountains.
Lunch Time
After all this exercise we stop for lunch at the iZimbali restaurant before making our way back to Durban through the "Midlands Meander", well known for various arts and craft markets.
Two Day Tour
If you would like to spend another day relaxing in these beautiful mountains, consider staying overnight in a luxurious thatched cottage at the main camp.
Our vehicles are fully insured and our passengers are covered by passenger liability cover.
Find out more…
Just ask any question about this tour by filling out the form below and I'll get right back to you.
____________________________________________________________________________
Customer Feedback
Don
Just wanted to say many thanks for showing us round Drakensberg and Durban.
It is no exaggeration to say that our time in South Africa was the best holiday we have had in absolutely ages and that the couple of days in Drakensberg were definitely one of the highlights.
Hope all is well with you and that you are looking forward to cruising the waterways of England next month. If you can let me know where you are going exactly I'll see if I can dig out some useful info' for you.
I have been asked by a few people if I could give your details to them as they may be interested in doing a tour. Are you o.K. with this?
Very best wishes.
Richard & Val
_____________________________________________________________________________
Click here to find out what more of my satisfied customers have to say about my tours.